Profile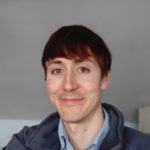 Jack Allen
My CV
Education

University of Oxford: Biomedical Imaging PhD (DPhil).

King's College London:
Physics MSci.

Hewett School (Norwich): A-Levels, GCSEs.

Qualifications

PhD (DPhil):
Biomedical Imaging

A-Level:
Physics (B), Biology (B), Maths (B)
I also got an E in Chemisty and a U in Further Maths!…

GCSE:
Drama, Graphic design, English, Maths, Art, Biology, Physics

Work History

Swimming Pool Lifeguard.
It was pretty cool to have free access to the gym and swimming pool!

Supermarket customer assistant.

Cinema team member.
I had fun selling ice cream and watching films for free.

Current Job

Research Associate at Imperial College London, National Heart and Lung Institute.
I'm based at the Royal Brompton Hospital in London.

Employer

Imperial College London. I'm funded by the British Heart Foundation.
About Me:

I'm an MRI Physicist in a hospital. We try to find ways of getting clear images of human heart using an MRI scanner.

Read more

I live in London and enjoy riding my bike along the river Thames. I like football (Norwich City fan) and a good cup of green tea. I've recently joined an online choir.

My Work:

I try to find ways to get clear MRI scans of the human heart. I work in a hospital with medical doctors.

Read more

I'm an MRI Physicist. This means I use our knowledge of Physics to find ways of improving MRI scans. This may mean making the scans faster, clearer or more detailed.

There are many ways to get an image from an MRI scan. Each method lets us see the body in a different way. This is like using different types of cameras to take a picture of the same object.

MRI scans will be blurry and messy if the heart rhythm is irregular during the scan. My work focuses on getting clear images even when the rhythm is irregular.

This is one of the MRI scanners we use to scan patients. Each scan takes about 1 or 2 hours. The doctors need lots of views of the heart to see what shape it is and how well it is pumping. The patients can listen to music during the scan. 

My Typical Day:

I check my list of things to do and plan the rest of my day.
I often do some computer programming in the morning and drink some tea. In the afternoon I might test my new scanning technique on water bottles or work with doctors and a radiographer to scan patients.

Nowadays I spend a lot more time working at home, so I'm often battling to avoid sitting at my desk for too long!

What I'd do with the prize money:

It would be fun to buy equipment to make fun educational videos about medical imaging, for anyone to watch online. I would like to make a blog to write about each video.

MRI scanning can produce beautiful images of the human body.
The way we scan uses repetition and is often rhythmic, a bit like music. 
It would be interesting to show the similarities between medical imaging, art and music.

Read more

I recently came 3rd in a medical research photo competition held by the hospital I work in:
https://www.rbht.nhs.uk/winners-announced-for-research-photo-competition

Here is my entry. I made it using computer code I wrote to simulate the Physics of an MRI scan. Each shade of grey is related to how the brightness of a particular tissue type (like heart muscle) changes during the scan. The peaks happen when there is a heart beat.

My Interview

How would you describe yourself in 3 words?

Inquisitive, distracted, thoughtful.

What or who inspired you to follow your career?

Enthuastic Physics teachers at school.

What was your favourite subject at school?

Physics or graphic design. I really like drawing, so I still draw little diagrams to help me solve problems in my work.

What did you want to be after you left school?

At first I wanted to be a footballer or an artist. Later I wanted to apply Physics to medicine.

Were you ever in trouble at school?

I was often late for school and lessons! My poor teachers...

If you weren't doing this job, what would you choose instead?

Research in renewable energy.

Who is your favourite singer or band?

I'm a big fan of Stevie Wonder.

What's your favourite food?

Bara brith is pretty nice!

What is the most fun thing you've done?

Performing in big musical productions at school, or holding a tray of medals at London 2012 Olympic and Paralympic medal ceremonies!

If you had 3 wishes for yourself what would they be? - be honest!

A house near the sea, perfect scientific decision-making and the ability to fly...

Tell us a joke.

Three people were walking down the road, on a stormy day, with the wind howling... the first one said "It's windy, isn't it?", the second said "No it's not, it's Thursday!", the third said "Ok then, let's go and get a cup of tea".

My profile link:
https://ias.im/u.264904
---
---
---
---