Profile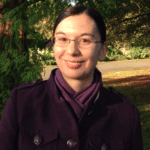 Megan MacLeod
My CV
Education

I went to school in a small town in the North East of Scotland called Nairn.
For my undergraduate degree I studied Immunology at University of Glasgow, then I did my PhD at the University of Edinburgh.

Qualifications

At school, I studied lots of different subjects including Biology, Chemistry, Maths and Physics, and also English and History.

I have a BSc and a PhD in Immunology

Work History

When I was at university I worked in a grain store testing whether the grain was good enough for making beer and whisky.

After my degrees, I worked as a scientist in an immunology research lab in Denver in the USA.

Current Job

I am a research scientist, group leader and lecturer at the University of Glasgow.

Employer

The University of Glasgow is one of Scotland's four ancient universities; it's existed since 1451. Since the late 19th century it's been based in the Westend of Glasgow with its old Gothic looking buildings alongside tall glass research buildings like the one I work in.

I work in the Institute of Infection, Immunity and Inflammation, a world leading research institute where scientists and clinicians work together to promote and develop research, drug discovery, and improvements in patient care.
About Me:

I am research scientist at the University of Glasgow and I enjoy encouraging others to think about how their immune systems protect them from disease

Read more

I like keeping fit and lockdown has let me spend more time out running. I also like reading – anything from detective stories to long complicated Russia novels.

My Work:

In my lab we want to find out how different cells in the body work together to fight infection

Read more

The first time you are infected with a virus or a bacteria your body learns about that bug. Your body keeps hold of this memory and, if you meet the same bug again, your body can act more quicky to stop it growing inside you. This memory is held by cells of your immune system.

We ask which immune cells are involved in keeping hold of the memory about the bug and how they work to stop the bug growing inside you. We hope that what we learn from these experiments will help us to design better vaccines to protect people against infectious bugs.

My Typical Day:

My work days are very variable – sometimes I'm in the lab looking at immune cells, other days I teach students about the immune system, or I write about our work for other scientists and for the general public.

Read more

I work in a research institute at the University of Glasgow. My main job is to help the people in my lab to do and to understand their experiments. My favourite days are when I can get my hands dirty in the lab! There is nothing I enjoy more than watching new results appear before me when I am analysing my experiments.

What I'd do with the prize money:

I'd use this money to help support an ongoing project with a local Glasgow primary school. We're working with the school to create fun activities to help young children understand how our immune system protects us against bugs.

Read more

In our project, 'Co-immunicate',  the pupils at the school will come up new fun activities to explain the immune system to younger children. The project has been on hold this year because of the restrictions following the COVID19 pandemic. To help improve our ability to work with the school, I'd use the money to buy computer equipment so we can communicate with the school pupils remotely more easily.

My Interview

How would you describe yourself in 3 words?

dedicated, curious, fair

What or who inspired you to follow your career?

The researchers I met when I was at university

What was your favourite subject at school?

Biology

What did you want to be after you left school?

A scientist

Were you ever in trouble at school?

not much

If you weren't doing this job, what would you choose instead?

Chef

Who is your favourite singer or band?

Tindersticks

What's your favourite food?

Cheese toasties

What is the most fun thing you've done?

Ski-ing in Colorado

If you had 3 wishes for yourself what would they be? - be honest!

To control the weather - so I can pause the rain when I go for a run

Tell us a joke.

Why do anarchists drink herbal tea - 'cause properTEA is theft (I do love a good cup of tea!)

My profile link:
https://ias.im/u.264886
---
---
---
---